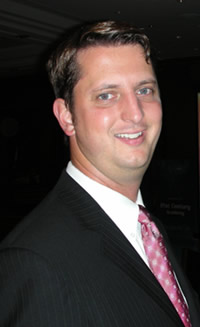 "Become a better, smarter investor so you can potentially grow your portfolio and compound your account! Without crazy risk, daytrading, or being chained 

to your

 computer for hours a day…"
Hi, I'm Kirt Christensen and I've been interested in the trading my entire life, I was fascinated by the printed "stock column" in my local paper as a kid, how about you?
I've started trading when I was pretty young, while still in college, so I've been at it for over 22+ years now!
I've made just about every mistake in the book during the that time, but at the same time, have learned an immense amount about the markets really work, not pie-in-the-sky fantasy.
Along the way, I've created a handful of products that are "labors of love" for me, kind of how some people feel about a pet… (No, I'm not a pet guy, just kind of makes sense?)  I've created:
(Swing trading using market timing on 9 major sectors of the economy)

(Selling weekly option premium on a major index, for weekly cash flow) and

(Trading momentum stocks on the verge of break-outs for huge potential upside, and known risk… This is my favorite strategy, we average a Risk:Return ratio of 1:5 and have nearly a 40% win rate! For ever $1,000 we risk, we make back $2,310)

Our investing and trading philosophy is simple: "Buy and Hold" investing is risky for the average investors because it exposes your portfolio to large, unpredictable marketing crashes the are difficult to recover from….  Sure, people love "dollar cost averaging", and the theory that the markets always rebound, but that doesn't do you much good if you retire in the same year that the market sells off 50%, does it?
We design our strategies to trade in and out of the markets in the short terms trends that present themselves, in a predictable, repeatable fashion.
We believe in pursuing slow and steady potential portfolio growth using strict risk management rules that we never violate!
Finally, even though we are proud and confident in our research and methods, we firmly believe that you should only ever invest or trade with money you can afford to lose!

Warmly,


2426 S Dishman Mica Rd Suite 5
Spokane Valley, WA 99206
509-720-7867
(Feel free to call the office if you have any questions, or if you're in the area, our office is inside the Dishman Mica Professional building, so we're easy to find!)
PS – Yes, you can trade this in retirement accounts (ROTH IRAs, Regular IRAs, CoverDell IRA's, some 401ks, etc.) Yes, it will work on small amounts of capital as well.I turned a measly $3,000 in my 3 year old's education IRA into $4,500 in 120 days — and that's just the beginning.
PPS – Yes, it's safe, as far as investments go, we'll talk more about it, but we're doing the exact same thing that an investment advisor would tell you to do…BUT we're not just doing the "buy and hold" for 30 years.We're taking advantage of BOTH sides of the market.
Consult your own investment advisor, I'm not a registered investment advisor, nor ever want to be 🙂
TradingScience.com is not an investment advisory service, nor a registered investment advisor or broker-dealer and does not purport to tell or suggest which securities or currencies customers should buy or sell for themselves.
The analysts and employees or affiliates of Company may hold positions in the stocks, currencies or industries discussed here. You understand and acknowledge that there is a very high degree of risk involved in trading securities and/or currencies. The Company, the authors, the publisher, and all affiliates of Company assume no responsibility or liability for your trading and investment results. Factual statements on the Company's website, or in its publications, are made as of the date stated and are subject to change without notice. It should not be assumed that the methods, techniques, or indicators presented in these products will be profitable or that they will not result in losses.
Past results of any individual trader or trading system published by Company are not indicative of future returns by that trader or system, and are not indicative of future returns which can be realized by you. In addition, the indicators, strategies, columns, articles and all other features of Company's products (collectively, the "Information") are provided for informational and educational purposes only and should not be construed as investment advice. Examples presented on Company's website are for educational purposes only. Such set-ups are not solicitations of any order to buy or sell. Accordingly, you should not rely solely on the Information in making any investment. Rather, you should use the Information only as a starting point for doing additional independent research in order to allow you to form your own opinion regarding investments.
You should always check with your licensed financial advisor and tax advisor to determine the suitability of any investment.
HYPOTHETICAL OR SIMULATED PERFORMANCE RESULTS HAVE CERTAIN INHERENT LIMITATIONS. UNLIKE AN ACTUAL PERFORMANCE RECORD, SIMULATED RESULTS DO NOT REPRESENT ACTUAL TRADING AND MAY NOT BE IMPACTED BY BROKERAGE AND OTHER SLIPPAGE FEES. ALSO, SINCE THE TRADES HAVE NOT ACTUALLY BEEN EXECUTED, THE RESULTS MAY HAVE UNDER- OR OVER-COMPENSATED FOR THE IMPACT, IF ANY, OF CERTAIN MARKET FACTORS, SUCH AS LACK OF LIQUIDITY. SIMULATED TRADING PROGRAMS IN GENERAL ARE ALSO SUBJECT TO THE FACT THAT THEY ARE DESIGNED WITH THE BENEFIT OF HINDSIGHT. NO REPRESENTATION IS BEING MADE THAT ANY ACCOUNT WILL OR IS LIKELY TO ACHIEVE PROFITS OR LOSSES SIMILAR TO THOSE SHOWN.